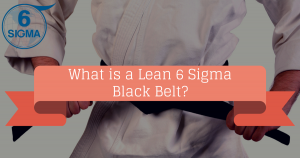 The Leader's 6 Sigma Black Belt
A Lean Six Sigma Black Belt certifies you as a leader in process improvement techniques. However, to get a Black Belt certification, you need to have command over Lean Six Sigma methods like DMAIC.
What Does a Lean 6 Sigma Black Belt Do?
Although the job of a Lean 6 Sigma Black Belt varies within in any quality organization, in most cases the individual will take the lead in process changes and improvements. This includes measuring, planning, and implementing projects that end up reducing process variations and improve quality in the company's core functionalities.
In most scenarios, a Lean Black Belt has the sole responsibility of implementing projects, and he/she may not be engaged in any other operational duties in the organization. Being a project leader also means that a certified Black Belt must have superior management and communication skills.
Duration of a Lean 6 Black Belt Training Certification Program
The best Lean 6 Sigma Black Belt training programs can extend over 4 months with weekly intervals. The design of the program ensures that the trainee is not "overloaded" with technical information, but gets time to clearly comprehend each training module. The weekly sessions also fall in line with each stage of the DMAIC process.
However, you can even sign up for intensive courses that extend for only a month. Whatever the duration, a Black Belt program only commences when the student learns the subject matter, shows practical aptitude by completing a project, and then writing a final examination.
What Jobs can Black Belts Apply For?
Black Belts can provide assistance to Six Sigma Master Black Belts who are responsible for running Lean Six Sigma projects to bring tangible improvements in the business process. In addition, all companies who want a scientific approach to fulfilling business objectives will also hire certified Black Belts. Black Belts will also be asked to lead Lean Six Sigma professionals (Six Sigma Green Belt and Six Sigma Yellow Belts) in planning and executing projects.
Requirements for a Black Belt Certification
Since the Lean Six Sigma Black Belt is an advanced qualification, its requirements will also be greater than Yellow and Green Belt training programs. However, programs like the Six Sigma.us option allow individuals with little or no prior experience the ability to be certified at the Black Belt level by successfully completing four weeks of training as well as a live project and exam.
It is important that the program you choose provides a recognized Black Belt certification. This can be challenging, since there isn't a governing body over Lean Six Sigma. Therefore, it is recommended that a well-known program be used that has been utilized by major corporations.
What Does a Lean 6 Sigma Black Belt Program Achieve?
Lean Six Sigma certified Black Belts on the completion of their training are given one project at a time to complete using the Six Sigma methodology. Black Belts also learn to become team players and team leaders.
When you complete your training, you will become result oriented and you will develop the necessary skills to complete projects efficiently. Lean Six Sigma training is important for organizations as it teaches employees modern management and cost-cutting methods, which ultimately makes the company profitable.
Avenues for Training
There are many places from where you can get your Black Belt certification. Online programs are highly convenient, but classroom training provides the highest quality option. Note that you should only get your certificate from an organization that provides recognized certifications. In addition, the worth of the certification depends on the reputation of the trainers and the organization.
Conclusion
The Lean 6 Sigma Black Belt is the last step before you or your business managers can become Master Black Belts. However, remember that Black Belt training is only beneficial if you have engrained the Six Sigma Culture throughout the organization. Sometimes, a Lean Six Sigma Black Belt leader may be called in a business for this very purpose.
——-
Learn more information about 6Sigma.com's Lean Six Sigma training coursework, available as classroom, onsite, or Six Sigm online training options.