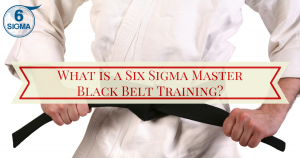 The Highest Degree
Six Sigma certification has a ranking system that it borrows from the "belt" system in martial arts. A Six Sigma Master Black Belt or MBB holder is an individual who has completed the highest degree of training within this methodology and has completed six sigma black belt, green belt, yellow belt and white belt programs.
Six Sigma black belt is a process improvement method in which individuals receive instruction and are certified to help companies in analyzing and improving their operations. The end result is the elimination of variance and increased revenue.
What do Six Sigma Master Black Belts Do?
With the popularity of the Six Sigma black belt process, certified Master Black Belts are required in all types of organizations, whether it is a product or service based company. They possess the skills to improve the workflow of any business allowing the company to save millions of dollars every year. This is done by creating a framework within the organization that allows for continuous efficiency.
Six Sigma Master Black Belts can also help businesses improve relations with clients. This is because improvements in the workflow will result in improved product/service quality, reduced cycle times, and low costs/unit (resulting in low prices).
Multinationals also require individuals with Six Sigma Master Black Belt skill levels. This is because in global operations, the core problems of the company are hard to spot. But with the analytic approach taught to Six Sigma black belt trainees, these can be easily spotted and resolved.
More importantly, Master Black Belts can literally rescue companies on the verge of closure or bankruptcy.
What a Certified Six Sigma Master Black Belt Brings to the Organization
It is important to note that hiring a Six Sigma Master Black Belt does not necessarily mean that the company already uses the methodology. The Master Black Belt will be called in to train competent employees and managers, and communicate with them in lucid terms the necessary changes to be implemented in the company.
If an organization has already incorporated Six Sigma in its operations, the Master Black Belt will start by selecting the best Yellow, Green, and six sigma Black Belt professionals to create the most efficient project team.
Next, Master Black Belts will work with six sigma Black Belts in leading Six Sigma projects. One of the most important aspects of the methodology is the gathering of data or statistics that the Six Sigma Master Black Belt will observe and analyze to reach proper conclusions about the business processes.
To sum it up, a Six Sigma Master Black Belt is responsible for:
Training Green and Black Belts
Providing innovation tools to Black Belts
Conducting Workshops
Designing and implementing Six Sigma projects
Who Can Go for Six Sigma Master Black Belt Training?
Usually companies choose individuals from upper level management to go for Six Sigma Master Black Belt training. These are usually leaders and managers who have already received six sigma Black Belt certificates. In most cases, Master Black Belt trainees will have some level of experience working as a Black Belt or other project management position that has required the completion of 10 projects or more.
Master Black Belts are expected to use Six Sigma tools and management skills with ease and develop customized designs for individual companies or specific projects within a single company.
Who Provides Six Sigma Master Black Belt Level Training?
Various institutes provide Master Black Belt Training. Moreover, this training is also provided by the organization to their upper level employees. There are a limited number of organizations that provide a recognized Master Black Belt training program. A traditional classroom approach is preferred for this level of training and certification compared to other six sigma courses.
Duration of Courses
Finally, a Six Sigma Master Black Belt training course should require at least two weeks of training spread out over one to two months. However, employees receiving onsite six sigma black belt training may complete this program in a shorter time.
Learn more information about 6Sigma.com's Lean Six Sigma training coursework, available as classroom, onsite, or online options.