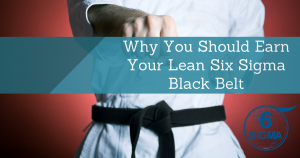 Businesses who are attempting to increase their productivity have turned to the marketing philosophy termed Lean 6 Sigma. Lean Six Sigma refers to a unique management philosophy that emphasizes reducing waste, increasing productivity and making factual decisions based on data. It can be used in any business to increase profits and improve the morale of the employees.
Lean Six Sigma assigns colored belts to different levels of the management team, similar to martial arts. A Six Sigma black belt indicates that you can do the following:
Explain the lean 6 Sigma principles to others
Demonstrate effective team leadership
Understand the dynamics of the team you are managing
Assign team members to appropriate roles within the team
Understand the DMAIC model of the Lean Six Sigma philosophy
Understand the Lean Six Sigma concept
Identify activities that do not add value to your company
Ability to use specific tools to manage effectively
It is important to note that there may be several different Six Sigma Black Belts on a team, as well as Six Sigma Green Belt, Six Sigma Yellow Belt, and Six Sigma White Belts. It is important that everyone on the team of a Lean Six Sigma project works together. Earning your black belt certification is a great accomplishment but it should not cause you to work above or ahead of your colleagues.
Obtaining Your Lean Six Sigma Black Belt
Obtaining your black belt in Lean Six Sigma can be a boost for your career. It shows your employer that you care about the bottom line and are also interested in helping your coworkers improve profitability, as well. It demonstrates that you have leadership and management skills. Skills such as these are easily transferred between jobs and companies. By showing your Six Sigma black belt credentials, you are showing that you are ready for a top level management position.
There are various organizations that offer the Six Sigma training and certification required to earn your Lean 6 Sigma black belt. If you are interested in this designation, first ask your boss for recommendations on which organization you should choose to get your black belt. They may prefer that you use a certain training system for your company.
If you have never considered earning your Lean Six Sigma Black Belt, the time to think about it is now. With the ever-changing economy and uncertainty of jobs, you need everything you can get to ensure a good position now and in the future. Remember that additional training and certifications, especially in the areas of management and leadership, will always benefit you in the long run.
The first step in earning your six sigma black belt is to know all you can know about the 6 Sigma and Lean 6 Sigma principles. If you have already earned a lower colored belt, you are well on your way.
Learn more information about 6Sigma.com's Lean Six Sigma training coursework, available as classroom, onsite, or Six Sigma online options.