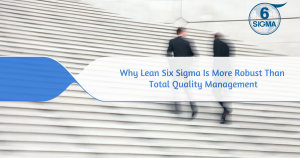 In the world of quality experts and process improvement experts, there is some level of disagreement over the differentiation between Lean Six Sigma and Total Quality Management (TQM). In one camp are those who say they are essentially the same, with only slight differences in the names given to each step of the methodology. In the other camp, though, are those who say they are vastly different in scope, applicability and their ability to produce lasting change within an organization.
As with most disagreements of this sort, the reality probably lies somewhere in between the two extremes of thought. Our position is that Lean Six Sigma incorporates TQM concepts and methods and then expands upon them, therefore creating a more robust overall quality solution for all types of organizations.
What is TQM?
---
Before we can more fully support our position, let's first look at what TQM is and how it works. Definitions vary somewhat depending on which school of TQM thought you follow, but most agree that TQM includes the following elements:
Customer Focus – The TQM philosophy approaches decision making and operations from the perspective of the customer's needs rather than the company's needs. Processes are designed to maximize the benefit to the customer by producing the highest quality product or service possible.
Taking the Long View – TQM approaches quality improvement as a long term, entire philosophical adjustment rather than a short term program. There is a beginning to the embrace of TQM strategies, but no defined end because TQM is a total commitment rather than a temporary practice.
Say Goodbye to Waste – TQM activities view waste in a process as extraneous to the operation and something to be eliminated. A broad definition of waste is used, taking into account things like time and effort in addition to physical materials.
Check the Numbers – Decisions in the TQM methodology are based on data gathered as part of the TQM process. Statistics are analyzed carefully, and all changes made are based on data-supported facts rather than personal opinions or judgments.
Prevention and Continuous Improvement – The TQM approach does not wait for problems to occur or settle for status quo performance. Instead, there is active searching for ways to prevent problems from developing in the first place and a continuous focus on process improvement.
Employees are Important – In a TQM environment, employees are empowered and expected to actively participate in decision making and quality improvement. Traditional departmental barriers are reduced or eliminated, opening up opportunities for cross-functional cooperation and innovation.
How is TQM different from Lean Six Sigma?
---
In some cases, Lean 6 Sigma is dramatically different from TQM, and in others, the differences are more incremental. The following table shows some of the most common comparisons between the two approaches.
 TQM                                                                                          Lean Six Sigma
| | |
| --- | --- |
| Focus on quality issues | Focus on quality issues as they relate to overall business goals |
| Apply improvement tools to products and services | Apply improvement tools to costs, cycle time, business goals, and other organizational |
| Quality expertise tends to congregate within the quality department | Six Sigma expertise is distributed throughout the organization and applied to many different disciplines and departments |
These are just a few of the differences between the two. In the next section, we will look in more detail at how Lean Six Sigma expands on TQM processes to create a more comprehensive approach.
How Does Lean Six Sigma Expand on TQM?
---
lean Six Sigma takes the best parts of TQM and makes them better. Examples include:
Comprehensive Approach – Rather than limiting efforts to improving product or service quality, Lean Six Sigma broadens the improvements to include all business issues. This is important because products and services do not exist in isolation from the rest of the business operation, so we should not expect to maximize their performance in isolation either.
Practical Tools for Measurable Business Results – Lean Six Sigma takes the tools of process improvement and applies them to achieve measurable business results, not just theoretical improvements.
Infrastructure Adjustments – Instead of an isolated quality department, Lean Six Sigma practitioners work throughout the organization. They apply their expertise and experience in a wide variety of ways to their everyday job responsibilities, along with periodic special assignments to focus on specific Lean Six Sigma projects.
Maximum Performance – Lean 6 Sigma goes beyond minimal standards of acceptability and creates the maximum levels of performance possible. In other words, it is not enough to meet expectations; Six Sigma methodology requires you to exceed them.
Which is Better – Lean Six Sigma or TQM?
---
There is no single right answer to this question, and we certainly cannot begin to provide a comprehensive answer within the scope of this article. Neither methodology – Lean 6 Sigma or TQM – is easy or simple to implement. They both require a commitment of time and resources that is significant and long lasting.
With that said, though, the very best business results are produced with a Lean 6 Sigma initiative that is fully supported, widely applied, and comprehensive in scope. Only 6 Sigma goes beyond specific products and services to transform entire processes and organizations, creating exceptional performance that shows up as real, tangible business results.
TQM is certainly a valid, worthwhile methodology that has produced some dramatic success stories over the years. It tends, though, to produce successes that are relatively short lived in comparison to 6 Sigma results. Most experts say this is because TQM does not fully integrate overall business issues and strategies into the improvement initiative.
Learn more information about 6Sigma.com's Lean Six Sigma training coursework, available as classroom, onsite, or online options.