Payment Plans for Six Sigma Training and Certification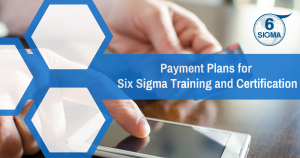 Six Sigma Training and Certification
Six Sigma training teaches professionals to use data analysis methods to improve business functions like cost-cutting and customer care. Six Sigma training and certification is provided by colleges, universities, and various online programs.
A regular training program includes the option of online or classroom learning with some hands-on experience. This involves working on a Six Sigma project, implementing strategies and tracking results throughout the duration of the course. The Internet also provides additional resources for development, such as articles, FAQ, slides and books. These can be used to learn what is currently trending in the Six Sigma methodology.
Special skills aside, all applicants should have a basic knowledge of Microsoft Office products, and be generally proficient in using computers.
Six Sigma certification is based on belts (Yellow, Green, Black), which indicate the skill levels required or taught in each program. Official certification can only be achieved after trainees successfully complete their exams and/or project requirements.
The most common programs are the Green Belt and Black Belt. The former lasts almost 2 weeks, whereas the Black can stretch over a couple of months. This is because Black Belt certification is geared towards leaders who can conduct in-depth analysis in various situations and apply DMAIC (Define, Measure, Analyze, Improve, and Control) to come up with solutions.
Once a person gets a Six Sigma certification, they can improve their professional skills and realize greater career opportunities.
The following industries are likely to hire certified Six Sigma professionals:
Manufacturing
Logistics
Operations
Quality Control
Hospitality
Information Technology
Engineering
Healthcare
Customer support
In general, Six Sigma professionals have greater chances of earning managerial and leadership roles in a company.
Payment Methods
When you decide to enroll in a Six Sigma training and certification program, there are various methods available for paying the fees.
These include:
Student loans for higher education (amounts above and beyond those needed for school may be used for other educational purposes, such as earning certifications appropriate to your degree)
GI Bill benefits for eligible members and spouses of the U.S. Armed Forces, including the Air Force, Army, Marines, and Navy, Air Force, and Marines.
"MyCAA" in the Department of Defence provides a maximum of $4,000 to military spouses.
Workforce Investment Act (WIA) stipulates that funds should be provided to employees for certification programs that fulfill the eligibility criteria. Usually WIA career counsellors will evaluate and finalize the funding.
Bill Me Later™ works with your PayPal account and allows you to get instant credit. All you have to do is select "Bill Me Later" as your preferred payment method on your PayPal account. For more information on this payment method, visit
https://www.billmelater.com
Benefits of Six Sigma
The financial benefits of investing in Six Sigma far outweigh the costs. Various companies like General Electric, Honeywell, and Motorola have achieved amazing monetary benefits by investing in Six Sigma. On average, a business can save real money off the bottom-line.
Here are some real examples:
US Army: Two billion dollar savings
Allied Signal: Over 800 million dollar savings
GE: Two billion dollar savings
The average Green Belt and Black Belt professionals will be able to tackle and complete three Six Sigma projects along with their regular responsibilities, although in most cases the Black Belt will only be called in to design and execute Six Sigma projects.
More importantly, Six Sigma is not a one-time process. Once you train an employee to use this approach, and it can be used continuously to detect errors, work solutions, and improve profitability in the business on an on-going basis. In simple words, this one-time invest will recover itself multiple times.
Learn more information about 6Sigma.com's Lean Six Sigma training coursework, available as classroom, onsite, or online options.
Social Share