Want to learn more about Six Sigma, but you don't have time for a class? Global Six Sigma offers a self-paced online training certificate that can give you an affordable taste of Six Sigma concepts. You may upgrade to the next level at anytime. This is a very convenient way to improve your marketability with the Six Sigma skills that are in demand.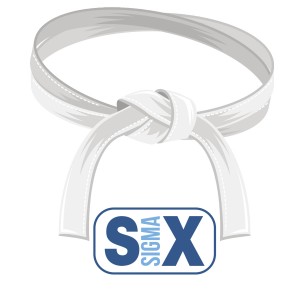 Online Six Sigma White Belt Training provides students with a general overview of Six Sigma concepts. You will be introduced to the Six Sigma and the DMAIC methodology. There are no prerequisites for this program. Upon completion, you will know what Six Sigma is; what the roles are within Six Sigma, and what makes a good Six Sigma project. This belt level is the launching point for students wanting to earn the professional competencies required for Yellow Belts, Green Belts, Black Belts, and Master Black Belts. This first belt level will allow you to be a qualified team member for Green Belt and Black Belt projects.
Online Six Sigma White Belt Includes:
Special low pricing of only $99 for Online Six Sigma White Belt program.
Electronic Course Manual that may be printed for future reference.
Upgrade to the Online Six Sigma Yellow, Green, and/or Black Belt programs by paying the difference.
Ability to pay for each belt level as you move up.
Requirements for the Online Program:

A computer with online access to the internet with a browser.
Sound Card and Speakers.
Display Settings of at least 1024 * 768 Screen Size.
Adobe Acrobat Reader.
Flash Player.
Access to Microsoft Office 2000 or newer or equivalent.
For all the White Belt program no statistical software application is required.
You are not to provide your login information to other users. Your online account is for your personal use.
Please note there are no refunds once the program has been started.
Online Six Sigma White Belt Agenda
Six Sigma Overview
Six Sigma Define Phase
Six Sigma Project Deployment
Add the Online Six Sigma Yellow Belt for access to these Additional Modules:

Online Modules Available
Do you want to brush up on your Six Sigma skills or need a quick overview? You may purchase individual online modules that cover only the information you want to learn more about or get a refresher on. There is no need to purchase a whole training program, if you don't want a certificate or certification! Chooses the modules you want from our catalog.