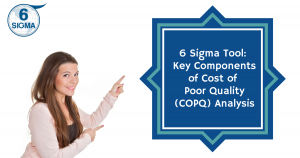 Cost of Poor Quality (COPQ): A 6 Sigma Tool
Also known as cost of waste, COPQ measures the costs incurred by an organization due to defects and poor quality in an existing process. It is not strictly a part of a Lean Six Sigma project itself, but rather is a Six Sigma tool commonly used to evaluate potential projects and prioritize the order in which they will be conducted. COPQ is a very effective way of identifying non-value adding activities associated with a process, making it easier to then eliminate those activities to generate cost savings.
COPQ analysis is not an exact science because accurate measurements are often not available prior to initiating a Lean 6 Sigma project. Skilled practitioners, however, can use COPQ analysis effectively and thoroughly enough to produce estimated measurements that are accurate enough for effective prioritization of Six Sigma projects.
The Purpose of COPQ Analysis
COPQ is an estimation tool, not an exact measurement tool. It is used to help identify Lean Six Sigma projects, determine their likely financial viability, and set priorities among potential projects. It can help an organization identify those projects where the Six Sigma effort will produce the greatest return on investment.
The primary purpose of COPQ is to determine the financial costs of waste/poor quality in an existing process. These costs are generally referred to as failure costs, and they fall into four primary categories:
Internal Failure Costs
External Failure Costs
Appraisal Costs
Prevention Costs
While not all failure costs can be captured with 100% accuracy, it is usually possible to capture enough of them with enough accuracy to have a good level of confidence in the results.
Let's look at each of these categories in more detail.
Lean 6 Sigma Tool: Internal Failure Costs
This category contains costs incurred by an organization due to defects that are found before the product or service reaches the customer. Examples of internal failure costs are things such as:
Scrap: Material generated from not maximizing the use of raw materials or from products/services that are sent to scrap because they are not fit to go out to the customer.
Rework: Activities that are required to correct defects in products and services, or to produce new products and services to replace those that are sent to scrap.
Failure Analysis: Time and effort needed to analyze defective products or services, especially when defect levels are high and a great deal of analysis is required.
Re-Inspection and Re-Testing: Costs associated with repeat inspections or tests necessary to ensure defects have been properly corrected.
Lean Six Sigma Tool: External Failure Costs
This six sigma tool category contains costs incurred by an organization due to defects that are found after the product or service reaches the customer. Examples of external failure costs are things such as:
Warranty Charges: Costs to the company for honoring the warranty on defective products and services; may include everything from shipping to repair to outright replacement of the product or service.
Adjustments for Complaints: Reductions in retail charges or addition of added value items/service as a way to resolve customer complaints.
Returns: Costs associated with refunding money on returned items, re-furbishing and/or re-stocking of returned items, and labor costs associated with the returns process.
Allowances: Typically given to distributors or other parts of the distribution chain as credits against defective products or services
Lean 6 Sigma Tool: Appraisal Costs
This category contains costs incurred by an organization to inspect and measure a product's or service's adherence to quality specifications and requirements. Examples of appraisal costs are things such as:
Inspection: All regular activities associated with inspecting products or services, whether during development, manufacturing, delivery, etc.
Testing: All regular activities associated with putting products and services through testing procedures to ensure quality levels.
Quality Audits: Periodic but generally random audits conducted to assess all or some quality aspects of a product or service.
Six Sigma Tool: Prevention Costs
This Lean Six sigma tool category contains costs incurred by an organization to conduct all forms of defect prevention for a product or service. Examples of prevention costs are things such as:
Design Reviews: Assessment and evaluation of product and service designs to look for defects or problems prior to production.
Policies and Procedures: Development, enforcement and review of the rules and standards that affect the incidence of defects; may include quality of materials, labor requirements, etc.
Training and Education: Those activities related to training and education of employees with the goal of increasing skill levels and decreasing the likelihood of defects.
Lean 6 Sigma Tool: The Seven Deadly Wastes
Another approach to COPQ analysis is to include evaluation of the so-called Seven Deadly Wastes. These are areas where waste is most common and organizations have a great deal of potential for improvement.
Overproduction: Making more than is necessary or called for in the schedule of production.
Waiting: Down time due to lack of work balance, leaving operators and others standing or waiting to perform their tasks.
Transportation: Moving materials and components during production, such as from one process to another, stacking, picking up, and putting down.
Processing: Preparation, protection and packing of components for transport to another area or part of the production process.
Inventory: Too much raw material on hand too far ahead of production needs
Motion: Range of movement required during process, such as steps to reach parts, distance between work stations, etc.
Defects: Points at which material and/or labor are wasted, creating bottlenecks in the overall process.
Lean 6 Sigma Tool: Putting it All Together
When you take the sum of costs from the four categories of failure along with the costs from the Seven Deadly Wastes, you can produce a generally accurate estimation of the costs an organization incurs due to poor quality and waste. This lean six sigma tool estimate can then be used to determine appropriate lean Six Sigma projects and prioritize which projects will provide the maximum return on investment. A solid COPQ is critical, then, to lean Six Sigma planning and should be an integral part of every organizational Lean 6 Sigma initiative.
Learn more information about 6Sigma.com's Lean Six Sigma training coursework, available as classroom, onsite, or Six Sigma training online options.