The healthcare industry is a ball of confusion at its best, and at its worst it's a nightmare. With packed waiting rooms, long waiting cycles, endless questions, and with medical staff being overwhelmed, the likelihood of human error is high.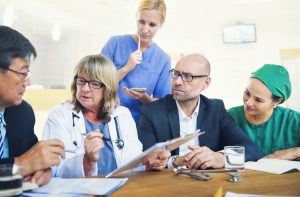 There are several benefits of Lean Six Sigma in healthcare. Issues are solved by a specific project approach, and each separate project tackles a specific issue. Each project uses a DMAIC template, which consists of five steps:
Define the problem
Measure current data
Analyze root causes
Improve (solution development)
Control (Process plan to sustain)
Learn More About Six Sigma Green Belt.
Cigna Corporation is a health insurance provider that decided to use Six Sigma methodologies to improve their processes and how operations were done. During the analyze phase, they uncovered inaccurate, faulty data, mainly because the data included in the findings didn't paint the entire picture.
The data only included that from the original diagnosis of the study, and did not include any subsequent readmissions or other treatments related to the same issue.
Engagement with high-risk patients was not adequate at all.
The follow-up plan for discharge and outpatient treatment wasn't adequate.
Communications to patients were confusing and unclear.
After improvements were implemented, the results were impressive:
There was a 53% decrease in readmissions
A $3,000 savings per patient
49% decrease in total in-patient care cost
To establish success using Six Sigma, the following is imperative:
Continuous Improvement
Ongoing assessment of projects
The right leaders for each project
Six Sigma is a methodical system with a goal and without waste. Six Sigma deals with accurate data, so there isn't any room for error. If all of the healthcare industry used Six Sigma methodologies, we could definitely cure what is ailing our healthcare system.
If you're a healthcare practitioner and interested in learning Six Sigma for your organization, contact us today!