Whether you're just starting out in your educational journey or a lifelong learner, it is good to have systems in place for learning new material. Why not consider integrating the DMAIC template into your studies? This simple template is the most powerful tool to use for focused studying. It can be used in conjunction with your other class tools, such as class syllabus. The class syllabus usually lays out exactly what is going to be taught and when the tests on said subject are going to happen. This information would be great to fill in your DMAIC template. You can think of this as your "process" creation.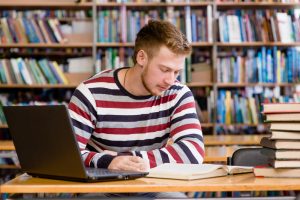 Remember, Six Sigma was created to be used for process improvement. The way you study is the process you use to gain knowledge by remembering what you studied. The result of how successful you are will be shown in how well you scored on the exam!
Simplified Idea of How to Use DMAIC for Studying
Let's break down how using the DMAIC* can help with your studying:
Define: In this phase, you can get all the information you will need from the class syllabus, which includes exams, chapters covered, lectures, and the like. Be specific and detailed in this portion. If you know the information that is pertinent, your brain will look for it and remember it.
Measure: Collect the data you need to study, including the days of the week to split your time in. Categorize anything (hours studying, time of day) that relates to time studying.
Analyze: With the information you gathered in the measure phase, take a pre-test prior to studying the material, then study and take the test again. If your score is a lot higher than before, your study methods are working, but if your test shows only a small improvement, then your study methods need improvement.
Improve: Here, you would improve your studying methods, do the analyze phase again and see how much you've improved. Repeat until you've accomplished a big improvement to your satisfaction.
Control: Once you've found what works that gets you the high score, it is up to you to stay in that mode of improvement. The data will show and you want to make sure you control what ever it takes to stay in that mode.
*The above is a simplified idea of how the DMAIC would work for study purposes. For more information on our Lean Six Sigma training courses and services, please visit the 6sigma.com.