Six Sigma is a proven methodology that has become a way of life at many large corporations. This infographic illustrates all that can be improved using the simple and easy tools of Six Sigma in a strategic, precise manner. The DMAIC process that Six Sigma has created doesn't leave anything up to chance.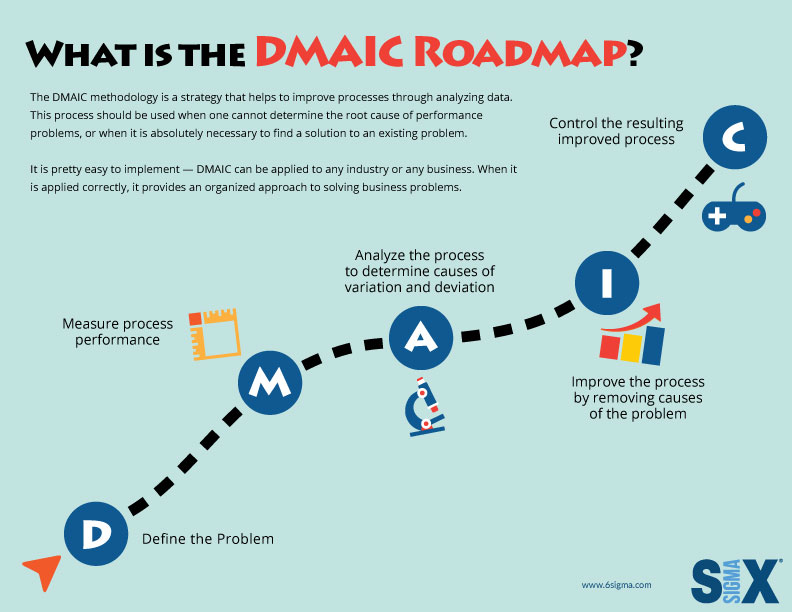 DMAIC  
D (Define): Here you want to state the issue in a clear, concise statement. Any details in relation to that issue, such as customer requirements, or VOC (Voice of the Customer).  Also state the objectives of the project in another clear concise statement.
M (Measure): Get a baseline of the current process and collect the data and see how your business stands as of right now. Create charts that make the information easy to read.
A (Analyze): Check out the current data and seek out what exactly are the possible hidden root causes of the issue. Identify waste.
I (Improve): Here, you are going to want to create new and improved processes based on the data you have collected and experimented on. Design new improvements.
C (Control): Here you want to design a monitoring plan to make sure you can standardize the new improved process. Document procedures.
Six Sigma methodology made such an impact on a large corporation such as General Electric. Imagine how Six Sigma could impact your business for the best.
For more information on our Six Sigma courses or services please visit our Six Sigma class schedule.