Using a Fishbone diagram in Six Sigma is easy, but it does take a certain mindset. First you want to have the mindset of eradicating the problem and not just the symptoms.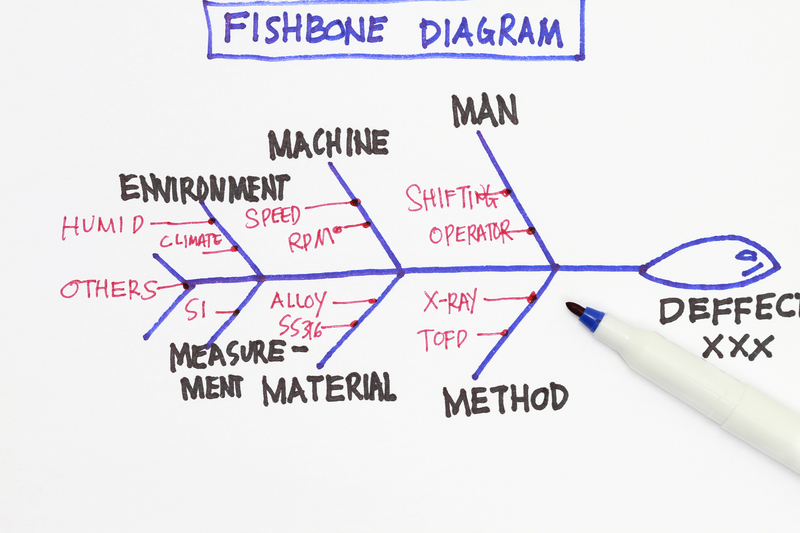 As with all the data in Six Sigma, the first step is to state the problem or issue clearly and concisely. Make sure you state the problem as a problem and not like a solution. Keep in mind that you don't yet know what solution will work to rid your problem.
Depending on your industry the categories could vary. With your team, agree and pick some categories that you could find the causes for the issue at hand. For example, categories in the service industry could be policy/rules/procedures or equipment/supplies, or perhaps environmental issues.
Make This a Time to Create Solutions as a Team
Then, along with your team, put your heads together and come up with possible causes of the problem. The best tool for finding the deep issue is 5 Whys tool. Keep asking, "Why does this happen" over and over until you can't get any deeper. Along the way, you will probably make other discoveries in sub-categories, which will help you prevent future similar problems.
Inspire each of your team members to get involved in brainstorming since this is a perfect opportunity to encourage team morale. Too often, supervisors or team leaders look to place the blame on their team, and not to make them part of the solution.
Make sure each team member has a chance to give their opinion as to what they feel are the top three root causes. Record them on the fishbone diagram, and with the backup data vote on the top culprit.
*This is just an example of how you can use a fishbone diagram. It is abbreviated, but it should give you an idea of the mindset you need to have.
Want to dive deeper into fishbone diagrams and how they work? Learn more information today on our Six Sigma training courses and services.